Web Design/Gold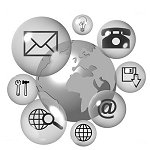 n this Web site design package you get a customer designed Web package, all the services required to configure your shopping cart and place the site on the Internet. Includes home page and 10 additional HTML pages.
With your Silver Series Web site package, the Work From Home Systems Web and Internet marketing professionals will:
Consult with you on your business model, Web site objectives, marketing strategy.
Develop site architecture and page layout.
Copy write / edit from your draft or outline up to 10,000 words of text.
Create basic graphics including page headers built around your (existing) logo; provide matching navigation bar, icons, etc.
Build up to 20 customized HTML Pages
Edit and format for the Web up to ten photos, from your prints or electronic files
Install, configure, and test your shopping cart system and all standard modules. Configuration also includes creation and loading of product catalog with up to 250 items. Additional items are available at a rate of $1.00 per additional item.
Create one cgi e-mail form with up to ten data fields, this is used for customer feedback, contact us, etc.
Upload site to your Web hosting server and completely test all functionality
Flexibility: we can do mutually agreeable tradeoffs of the various parts of this package to meet your needs at a single price; e.g., you could have two forms and ten photos instead of one form and twenty photos, etc.
Provide rigid quality control throughout.
Prepare a written work plan spelling out clearly what the deliverables are you're getting and when you'll get them.
If your Website needs are more complex
If you have additional questions on how to get your design project started today, you our convenient 'Contact Us' form to request a consultation so we can discuss your needs. We will be happy to provide proposals on any Web design and development projects within the scope of our expertise.
Just some of the options you may need or want to consider are:
E-mail auto responders
Soft-goods delivery systems (eBooks, downloadable files, members only page access, etc.)
Live customer service (Live Chat)
Pop-Up marketing programs (A great tool for customer retention)
Subscription based e-mail newsletter distribution systems
Opt-In E-mail systems for free reports, give-a-ways, promotions
Coupon features
Gift certificate programs
Automated affiliate programs
We price most work for a project on a fixed price basis with provisions for outgrowth priced by the hour. Generally speaking, our hourly rates are an EXTREMELY reasonable $150/hr for all services.
Get Your Web Site Started Today
You Can Have Your Own Profitable
Online Business Running In 30 Days
Only $2,495