ELECTRICIAN-WILMINGTON-NC.COM
North Brunswick Electrical Contractors
Project Description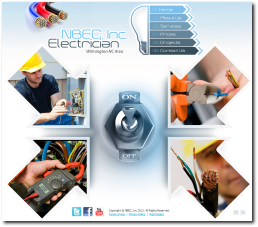 Bert and Linda started North Brunswick Electrical Contractors back in 1975 and have proudly served the Wilmington, Leland and surrounding areas with top quality and timely electrical contractor service ever since. The business is still family owned and operated by the Son (a licensed, professional electrical contractor) , and the Daughter, a professional Office Manager, Accountant, and experienced Project Coordinator. The news of North Brunswick Electrical Contractors product quality and, unparalleled friendly service, is well known in their ever expanding market community.
The owner / operator pair came to me in 2012 to help them build an on-line presence and create an affordable Internet marketing program to help rev up both their commercial and new residential electrical contracting offerings. We built them a complete Web site with full animations, a catchy musical tune and a complete description of the company history, current service offerings and a very impressive list of past and current clients.
We also created a full Google AdWords marketing program and through the magic of powerful SEO techniques, an organic (free) marketing engine that paid off in a very big way in less than thirty days! The VERY FIRST call that came in as a direct result of the new Web site, landed them a contract with an out of town commercial building contractor. With their construction crew on it's way to Wilmington to build an entire apartment community, they needed a local electrical contractor to do the initial "pad" electrical. Using a search in Google, they found the NBEC site and called on the phone. That inquiry resulted in a contract that also has a potential to, in the future wire the buildings as well....13 buildings in total with multi-family capacity. So in simple terms, the first call paid for the entire Web site project ( with a lot of cash left over for a celebration party!) and may provide enough project work for an entire crew for a year or more.
They are very pleased with the ROI on their Web site investment to say the least. The phone has continued to ring and other similar contracts have also been awarded, again because they were found on the Internet. The residential business is flourishing as well and NOW it is not unusual to get 2 or more service calls in a single day.
So what started out as an e-commerce trial balloon has actually grown into a multi-year Internet marketing project including a variety of on-line marketing systems and services. Some of the services that I provided were:
Graphic Layout and Storefront design
Web Site Search Engine Optimization
One-on-One Internet Marketing Consultation
Google AdWords Campaign Management
Disaster Recovery Services
Project Results
North Brunswick Electrical Contractors are very happy with the look and feel of their Web site and the new design makes it easy to announce new products and services. Careful attention to the Google AdWords advertising campaign design and budget and some well done search engine optimization, has earned their on-line storefront a first page position on Google for the term "electrician willmington NC."
Project Tools
Graphic Design:
PaintShop Pro
Search Engine Optimization:
WebPosition Pro 4, Google AdWords Keyword analysis tool
Hosting:
Hostasaurus.com
Advertising:
Google Adwords
Web page Design:
NetObjects Fusion